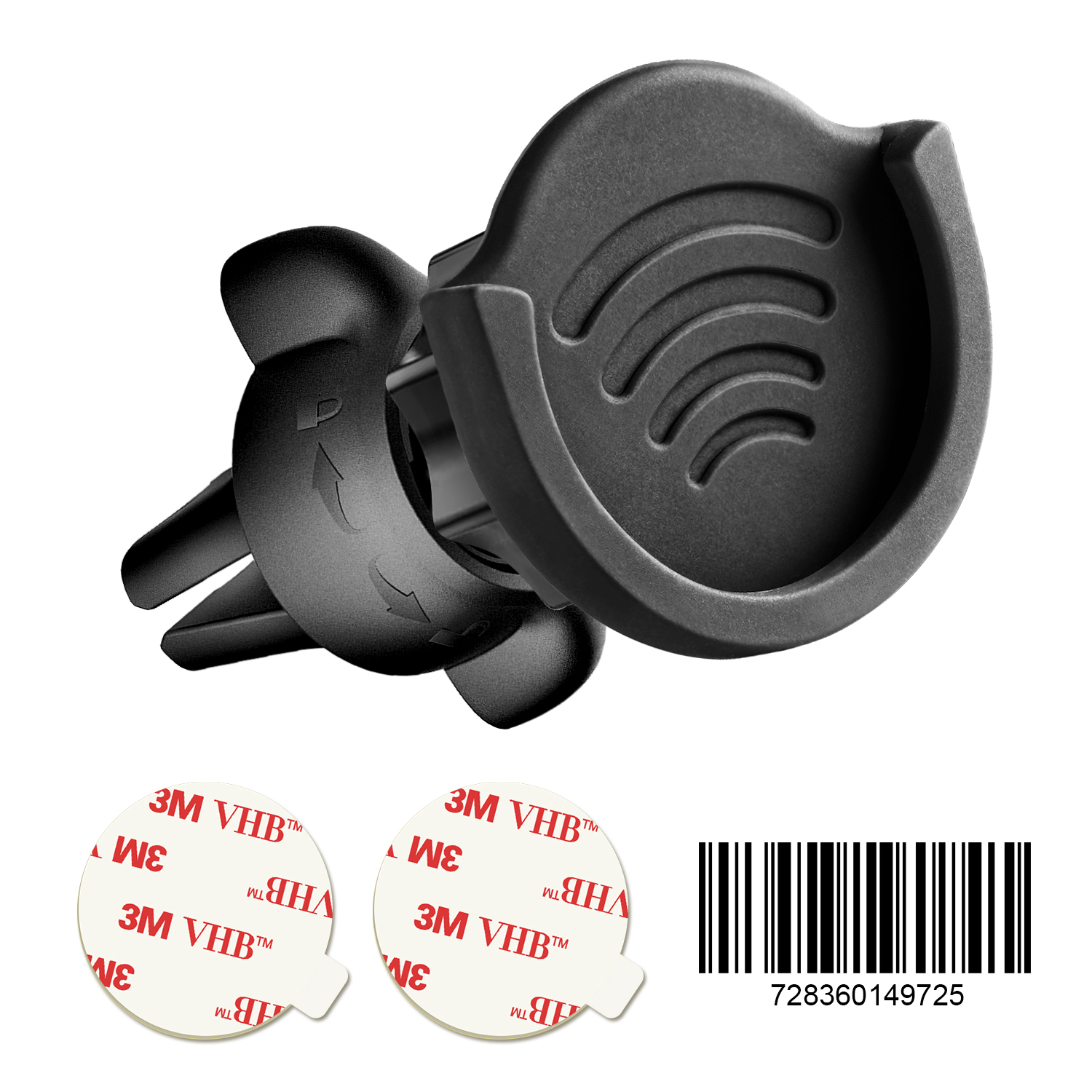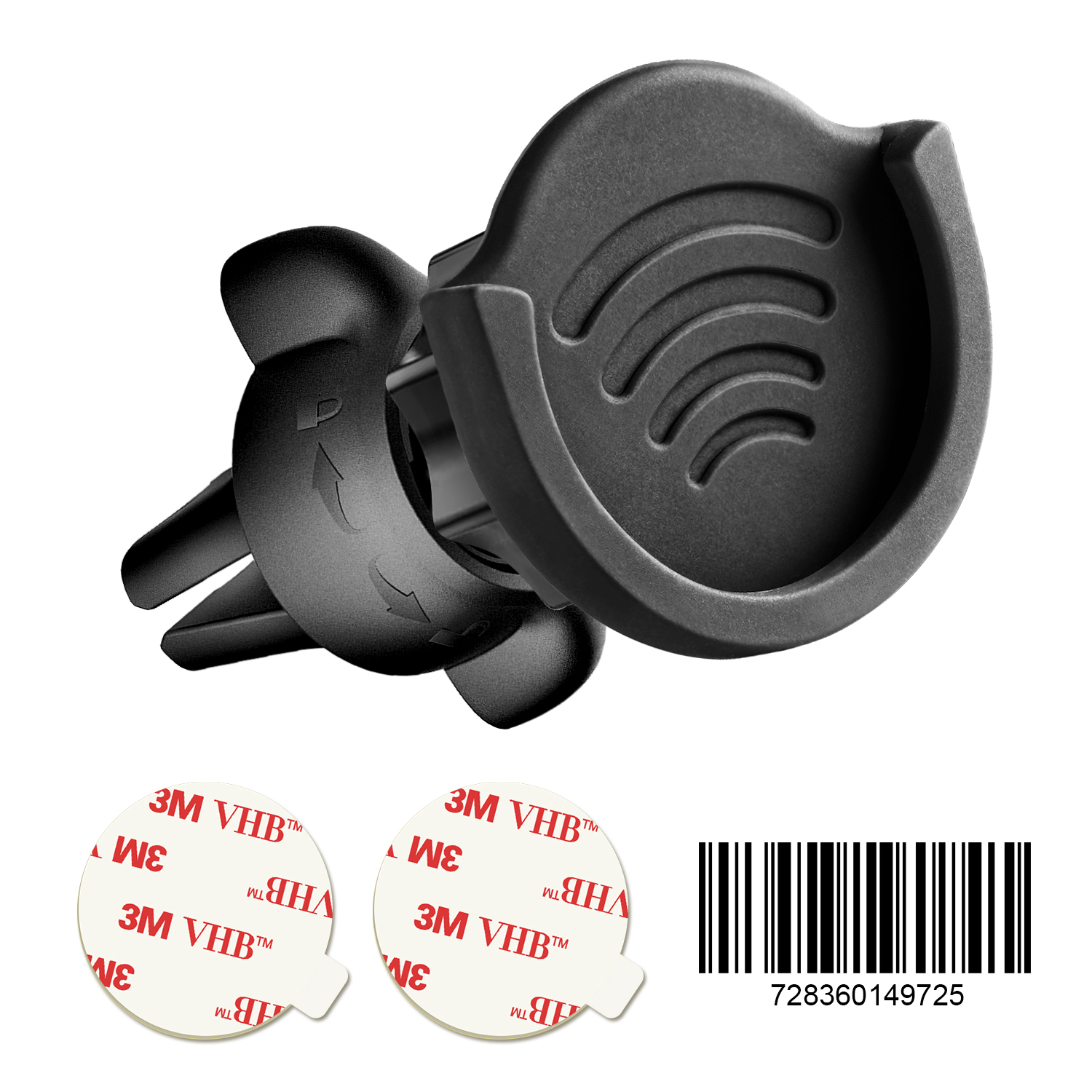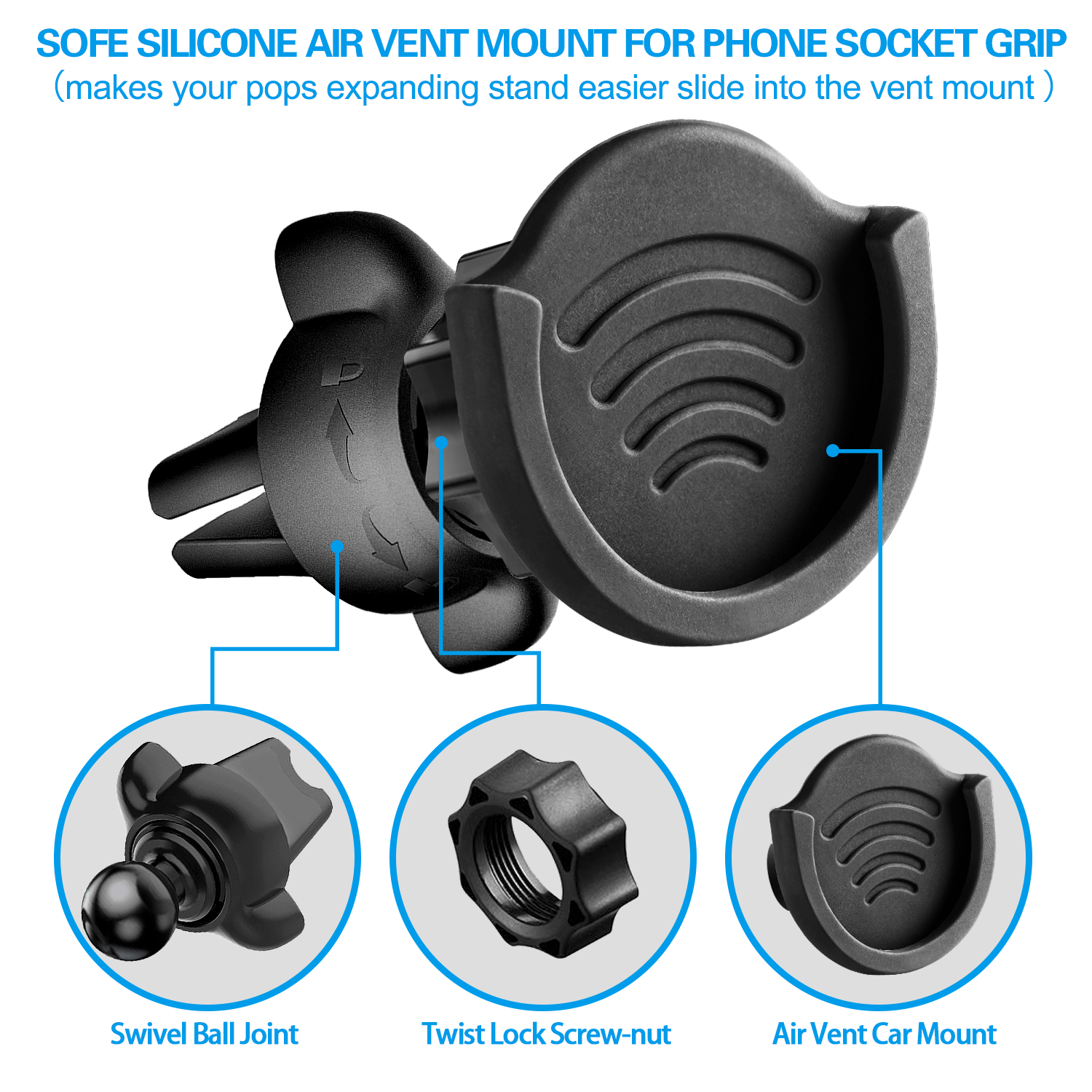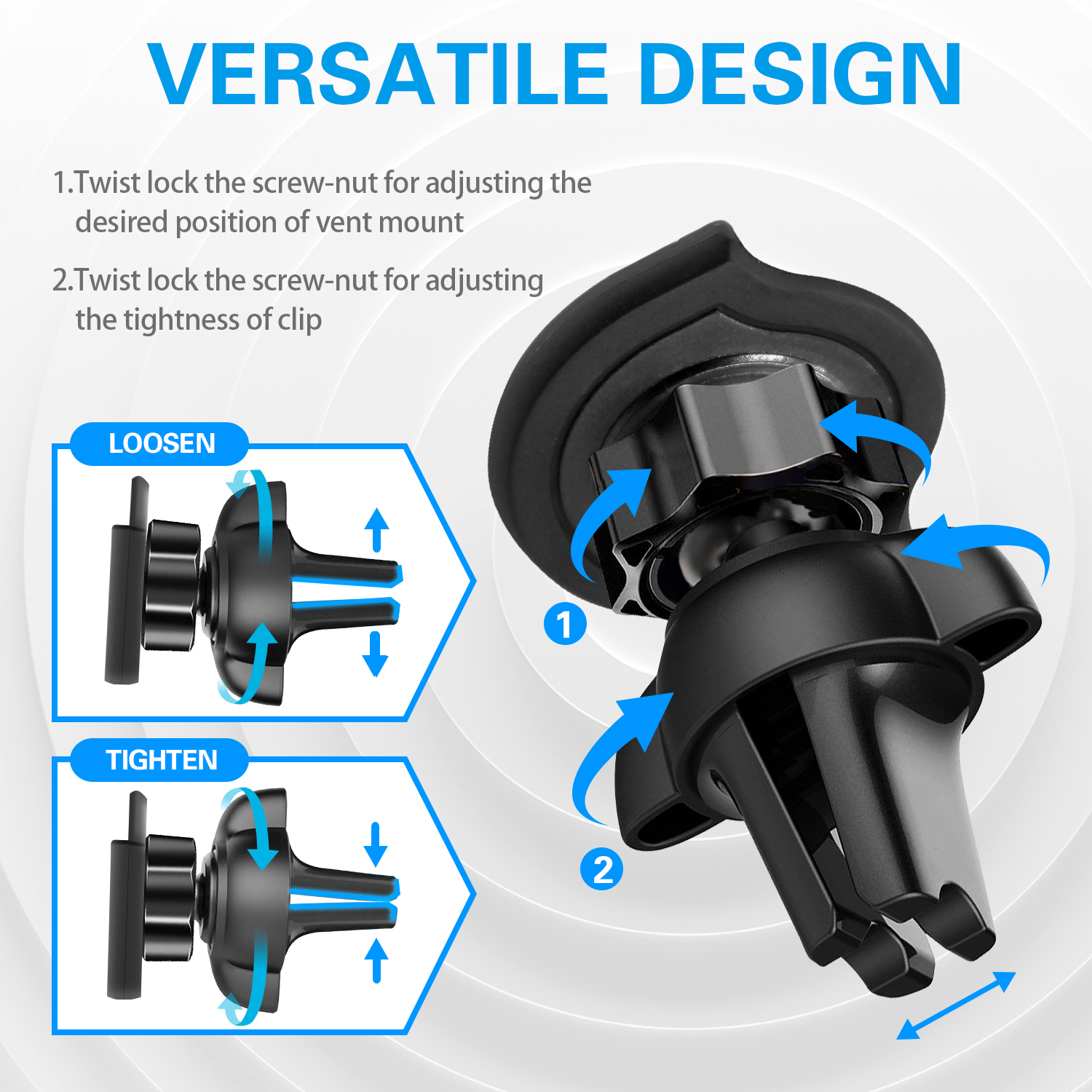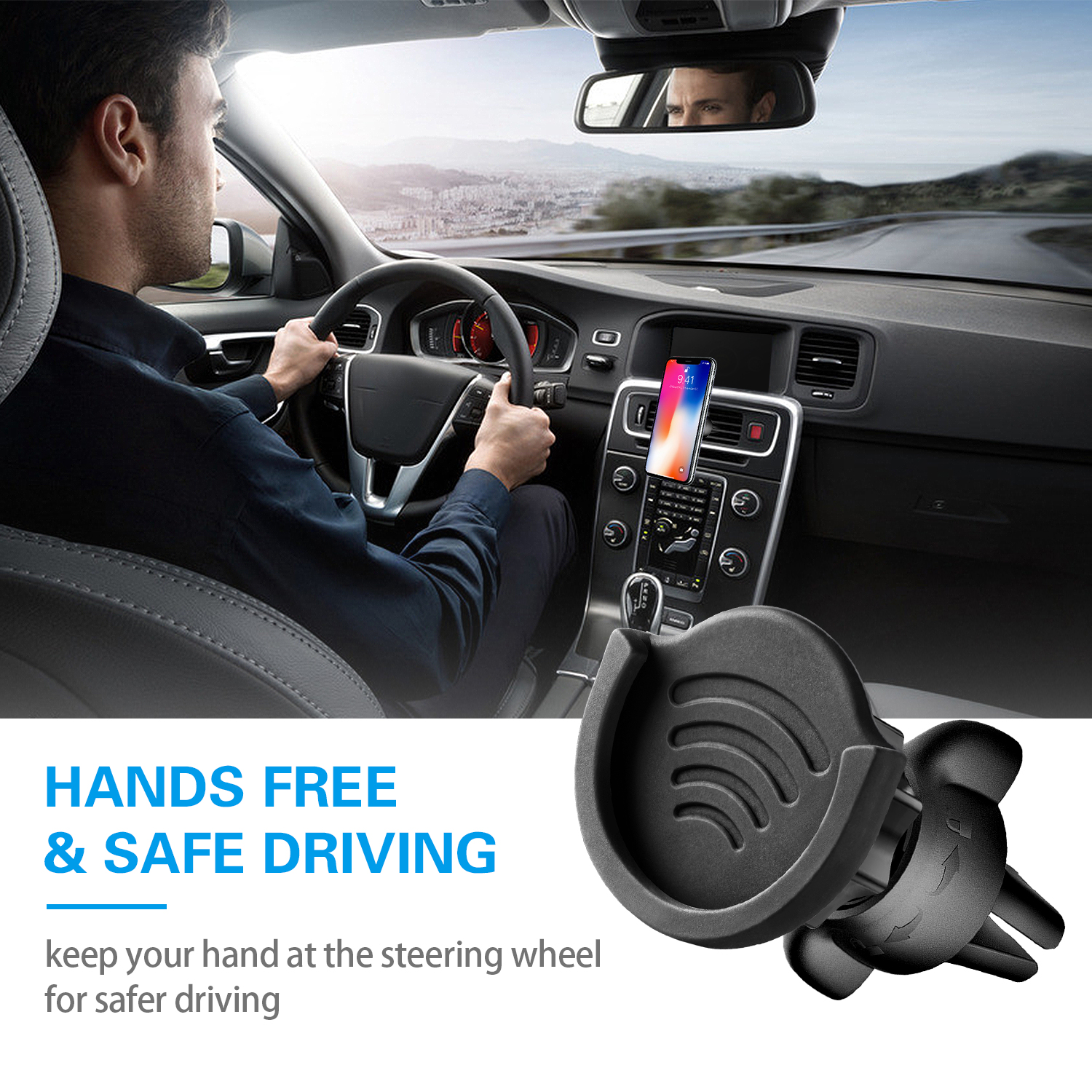 pop-tech Air Vent Phone Holder for Socket Mount, 360° Rotation Vent Clip Car Mount Silicone with Adjustable Switch Lock for Collapsible Grip /GPS Navigation & Sticky Adhesive for Expanding Stand Black
Choose your country:
Switch Lock Design - The pop-tech car vent mount has a swivel feature for better adjustment against different vent widths. The strong prongs of car vent mount clips tightly to the ac vent via twist lock the screw-nut. Best car vent mount for socket users!


360 Degree Rotation - Silicone vent clip phone holder for car allows you to rotate the phone at the perfect viewing angle from portrait to landscape for GPS navigation, which not block other dash surfaces for safer driving as a hands-free ac vent mount.


Durable & Sturdy - The silicone air vent car mount for collapsible grip &stand we design is made of soft silicone material and not easy to break. Compared to the other car vent mount, your grip holder easier slides into the silicone air vent phone holder.


Easy To Install - Put screw-nut to the swivel ball joint and connect to the clip car vent mount, then insert into the air vent outlet. Kindly noted that make sure your socket mount is collapsed for easier sliding into this silicone air vent car mount.


What You Get Complete Combo - pop-tech Switch-lock Air Vent Car Mount Silicone Compatible Collapsible Grip and 2 Pack Extra Strong Sticky Adhesive Replacement for Your Phone Expanding Stand, packaged by exquisite box. A must have for hands-free driving!
pop-tech Adjustable Twist Lock Silicone Air Vent Phone Holder for Car
Why Choose Us?
Twist-Lock Secure Design - Best car phone mount air vent with two adjustable screw-nut tightening systems - one around the 360 degree ball joint for angle adjustment and one around the base connecting to the air vent for tighter or looser(with open / lock point).
360° Rotation Swivel Mount - Adjustable air vent swivel mount keeps your smartphones in the optimal viewing, from portrait to landscape mode for GPS navigation and reading Waz. Fantastic for Driver Users.
Small Size & Secure Grips - The small car phone mount vent with exquisite unique design is extremely well made with premuim silicone material for your expanding stand to easier slide into the pop-tech clip car vent mount, which holds the device securely in place while on a bumpy road.
How To Set Up:
1. Put the screw-nut to the ball joint then connects to the car vent mount
2. Tighten the screw-nut around ball joint for angle adjustment
3. Insert the vent mount to the air vent blades
4. Adjust the screw-nut around base connecting to the vent for tighter or loose
Important Note:
*Please make sure your phone collapsible grip collapsed then easily slides into the vent mount.
*As for the extra adhesive provided, please wait 24hrs to use after re-sticking.
Package Includes:
1X Switch Lock Air Vent Car Mount for Collapsible grip & stand
2X 3M Sticky Adhesive Replacement for Phone Grip Stand
1X User Manual